I recently purchased my first 5th wheel toy hauler. (Dec 2019) GVWR was ~16,800lbs so I checked with the DMV website and my local CHP office and confirmed a Noncommerical or Commercial Class A license was required.  Since I had no interest in paid towing, noncommercial was the way to go for me.
After searching on the DMV website, I found very basic information on the Noncommercial Class A (NCDL). Clearly it said a 5th wheel over 15,000 lbs needed the license. That was easy.  But the information they offered was very basic and had some good information but I found it to be very lacking in what the test would actually be.
Dislaimer:  This is simply my experience and you should check the DMV website for updated forms, study guides or requirements that may have changed since I received my license. You may have a much easier tester and not need all these details, or yours may be more difficult. It is the DMV after all…
To get my NCDL I needed the following steps completed:
Complete the application with the DMV. (DL 44)
Pay the fees at the office.
Fill out the health questionaire (DL 546). No Dr. appt required for this document, unless a heath condition required it. Must submit a new one every 2 years to maintain your Class A status.
Pass the Class C test, if not renewed in last 12 months.
Pass the written Recreational Vehicles and Noncommercial Class A Trailers law test.
Pass vision test. (Same as the normal Class C test)
Wait 2 weeks to schedule step 7, if you passed the above steps.
Pass the Pre-Trip Inspection test.
Pass a skills test.
Pass the driving test, with the vehicle and trailer you are want to be licensed for.
Steps 7-9 are all part of the Behind the Wheel test. Steps 1-4 are pretty basic.  You can fill out the DL 44 form online as well before going into the DMV.  Unless the Class C test was difficult for you, it should be another easy test to pass.  The written RV and Noncommercial Class A test was faily easy if you have been towing for a while. If not, they have a study guide does a fair job of getting you ready.  I did notice a few questions were more about key words, so make sure you study the glossary at the end of the PDF guide. (found here)
Now things get a bit more difficult. At least they did for me.  Hopefully this page will make passing you test easier and on the first day. (Took me two times)  When going for your behind the wheel test, you have to call the DMV, as noncommerical behind the wheel tests could not be booked online and are limited to specific DMV locations.  You have to wait 2 weeks from the day you passed the written test and received your permit before you can take the behind the wheel test.  You also must have a noncommercial or commercial class A driver with you on the day you take your behind the wheel test. They must come in with you when you check in for your appointment. I contacted a commercial driving school near the DMV office I was going to take the test and paid for one of their instructors to join me to check in. Was only $60, but made getting someone to go with me very easy. I had no friends nearby with a Class A license to help me.
The behind the wheel test is 4 parts. Well, 3 really.  Pre-trip inspection, skills test and driving test. Lets break them down.
Pre-Trip Inspection
This is a very detailed walk around of the tow vehicle and trailer.  You have the outside inspection and the inside inspection.  I had no information of several points I had to make on the outside inspection or any of the inside inspection until I attempted my test.  None of the DMV pages say what is required in detail, and many points are missing completely from the DMV documention.  Lets start the outside inspection. You will see certain words are bolded, these are keywords that must be used when you perform the pre-trip inspection.
Suspension in good order, no damage. Mention U bolts on leaf springs in rear and trailer, good condition, tight and not moving. No missing springs and no illegal modifications.
Front suspension, no missing bolts, no illegal modifications.
Shock absorber secured correctly, no missing bolts, well secured.
Brake drums (trailer), pads and electrical lines, good condition, no illegal modifications – 25% + life on pads.
Tires, wheels/rims, lug nuts tightened, no rust, no damage to either. Wheel center cap secure. Must mention tires, wheels, lug nuts and center cap seperatly. With repeating line of no damage, rust or illegal modifications.
Tires PSI checked with pressure guage to proper pressure, good condition 4/32 tread (steer) 2/32 (others), no cracks or bubbles. Mention the pressure settings for each axle's tires.
Trailer level and not tilting.
Fire extinguisher and triangles on board trailer.
Battery in good condition with tight connections.
Windshield fluid full. No leaks, hoses clean, no cracks.
Power steering fluid full. No leaks, hoses clean, no cracks.
Transmission fluid dipstick secure, full. No leaks, hoses clean, no cracks.
Oil dipstick secure, full. level. No leaks, hoses clean, no cracks.
Coolant level check. No leaks, hoses clean, no cracks.
Water pump and reservoir in good condition, no leaks, cracks or illegal modifications.
Windshield has no cracks, clean and the seal around it is in good condition and no leaks.
5th wheel platform in good condition, no damages, or illegal modifications.
5th wheel arm, no modifications, clean and secured tightly.
Oil plate between trailer and hitch plate, no space between.
King pin locked, visual check.
Headlights working, no cracks, no missing bolts, clean.
Mirrors, clean and secured, no missing bolts.
Splash guards / Mud flaps no missing bolts or damage, good condition.
Exterior side marker lights, working, clean no missing bolts.
Trailer landing gear in working order, no cracks or damage, no illegal modifications.
License plates clean and always 2 bolts minimum. Truck and trailer.
Now, each item must be verbally said and pointed out to the tester.  Bolded words, again, are trigger type words you must say.  When I failed my first test I used the word 'base' instead of 'platform' for item 17. Be specific in item 5. I just said my wheel and mentioned the details, but they wanted to hear the 'tire' and all the comments, then 'wheel', comments, 'lug nuts', comments then 'center cap' and its comments.  Even though the comments were exactly the same…. "No damage, in good condition, no illegal modifications…"  My list is out of order, as I have modified it a few times, but order doesn't matter, just point them all out.  Once completed, you may be asked to do a light/horn check then, or it will happen when inside the truck.  Basicly, show all lights are working and functional, horn as well.  Now we go inside, a shock to me…. items that needed to be mentioned:
Demonstrate:
Horn working.
4-way flashers, turn signals, brake lights and service lights working. (if not done earlier)
Windshield defroster working.
Truck windows open and close.
Windshield wipers work with washer fluid working.
Trailer brake test, show functional and working. (Or explain how you do it)
Explain all dash gauges and their purposes. (oil pressure, engine temp, battery voltage, etc)
Explain engine is warm and ready to travel.  Show you won't drive off without knowing the truck is ready.
Skills Test
The skills test was 3 tests performed in an open area with cones placed on the ground.  I was asked to perform a backing test, an offset test and a alley dock test. Images below are what was asked of me. On all tests, once you have the truck in the position you feel is the correct spot and you want to tell the tester you are done, you give a short honk on the horn.
#1 You are asked to pull forward fully out of the cones with the trailer rear bumper clear past the last cones, stop, backup straight through all the cones until your front bumper is passed the last cone. Approx 150 feet or so. Image below: (Fig 12.1)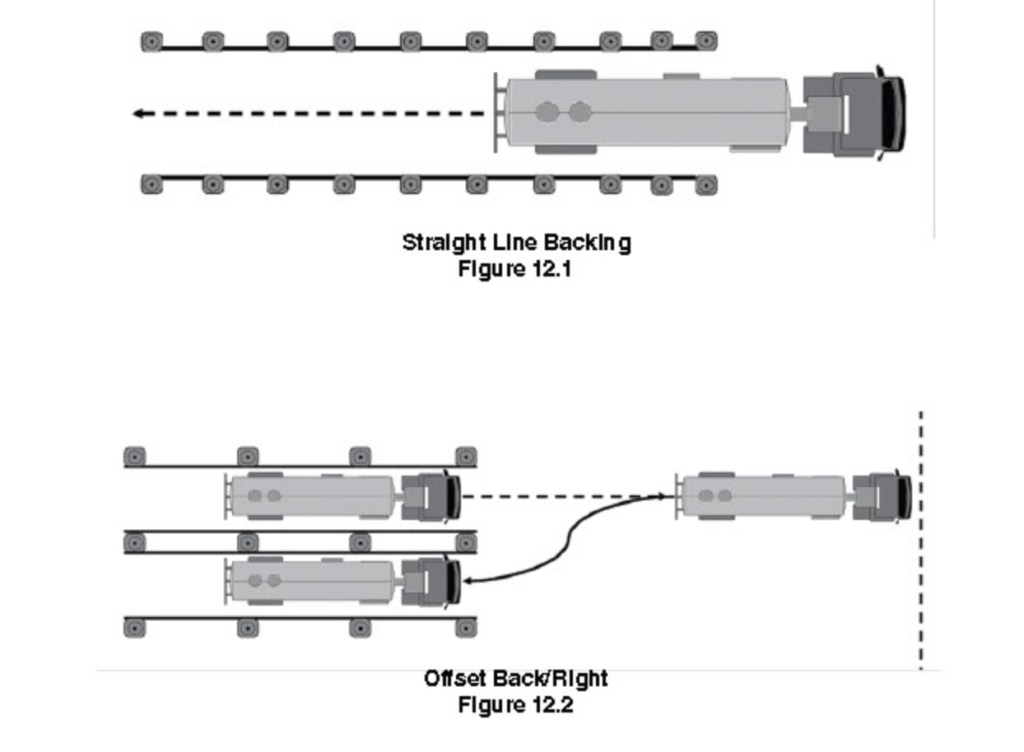 #2 You are asked to pull forward through the left set of cones straight (you may be asked to go right to left, mine was left to right lane). The tester will tell you when to stop moving foward, then you are to back up, shifting from the left lane to the right while backing up.  My test, I was allowed to get out and look (GOAL) one time, if needed without penalty.  You must back up, shift to the right lane, and stop once you have passed the front cones, with the front bumper of your truck.  Being a few feet past the cones was fine, but not in front of the cones, that will cost points.  In the picture above (Fig 12.2) I started in the left side, moved up and backed into the right side.
#3 The alley dock.  This one may be difficult if you are not used to backing your trailer up alone.  Basicly you need to squeeze into a small space.  The test is to simulate a real alley, with walls on both sides. This means you can not swing the trailer OVER a cone, as in the simulation you would have hit the wall.  I had about 12 inches of space between my trailer and the cones, each side, for this test. Also, even the smallest touch of the cone is a loss of points. (I just touched the base of the cone and was stopped and told to move forward and try again.)  In this test, you move forward of the alley and perform a left backing manuver into the alley and stop BEFORE the back of your trailer gets to the rearward cones.  Do NOT pass the cones, and try to get within 3 feet of them.  If more than 3 feet you loose a point and if you pass, well thats worse. (Fig 12.6)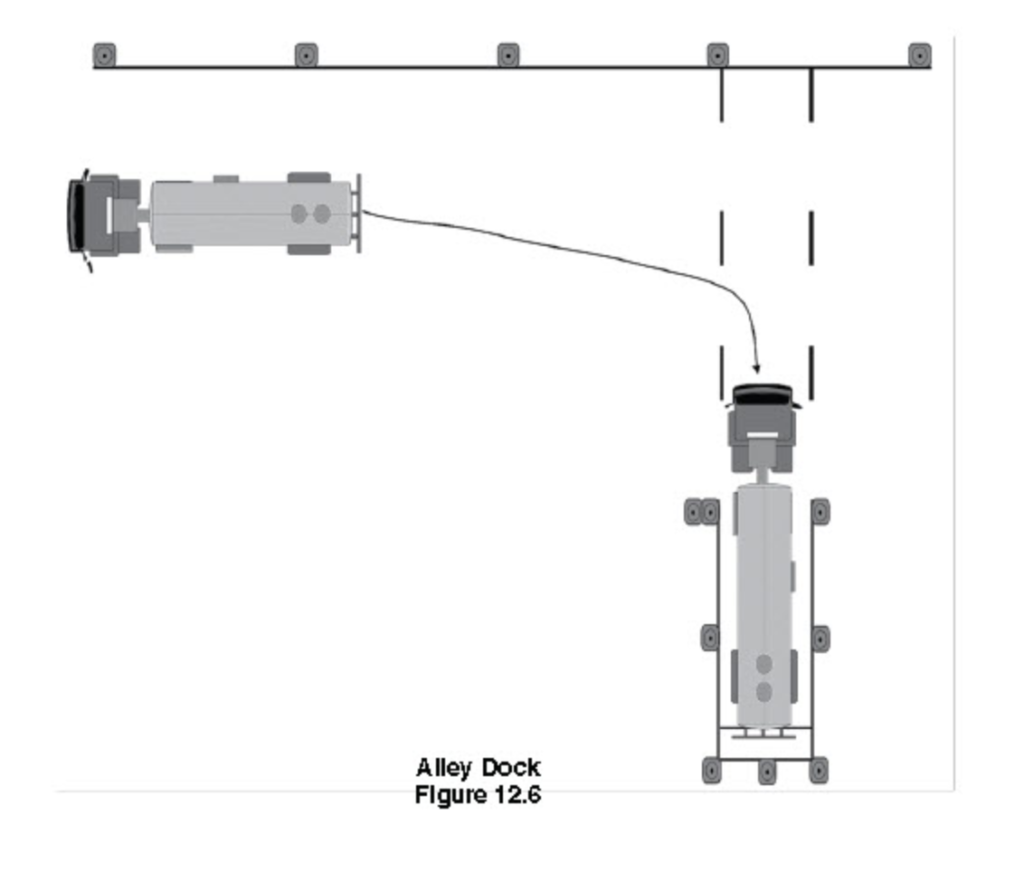 Note that the line on top of Fig 12.6 is also a wall, you can not break the upper line, or the 2 side alley cone lines AND the far back (or end) of the simulate alley you are backing into.  I had 2 free chances to pull forward and 2 GOAL chances in this test. Again, honk when in position.  I used a GOAL here to check my distance from the back cones.
Driving Test
Now, your driving test really started the moment your tires were rolling with the tester along side you.  It shouldn't need to be said, but you should use your turn signals every single time. Turn them on early and do not turn them off until you are through a lane shift or the steering wheel cancels them for you.  Don't use the momentary blinker, full on and off only.  You should always have 2 hands on the wheel at all times, you will loose points if you are one handed while driving for a Class A test. (Not so for Class C) The tester will tell you to turn left or right when needed, but one part they won't tell you is what lane to be in, if multiple lanes are able to be used for your turn.  As an example, you are told to turn right at the next light. There are 3 lanes, far left lane goes straight, the center is a straight or right turn, the right lane is right turn.  You can ask, but they won't tell you want lane to use, center or right.   Now, general rule when towing is to always be in the right lane, unless required to use another.  I always like to be in the correct lane based on my next turn.  However they won't give you an answer, so stay to the right always, if more than one lane allows the turn you were instructed to perform.
At one point I was asked to pull over and park on the side of the road. The next question my tester asked was: "What would you do to secure the truck and trailer if you were broken down here and and to park overnight?"  I simply said the truck would be in park, parking brake set, doors and windows secured and locked.  I would place chocks on the trailer tires and drop the front landing gear to secure any possible trailer movement. I also mentioned securing items in my truck as well, but I don't think that was point scoring.   We got back on the road after that.
The driving portion is about 40 minutes long. City streets, train track crossing, freeway and stop signs.  Pay attention.  Nice long stop at all lights and stop signs.  Stop FAR from the crosswalk line. Stop far enough back that you can see both white lines.  Trailers don't have to stop at train tracks, unless a stop sign is present. At this time only passenger and hazmat vehicles have to always stop and look.
Never speed. Currently all trailers have a max speed limit of 55 MPH on freeways in California. Don't exceed the limit. While on city streets pay attention to speed limit signs and school zones. Don't get a failure for a simple thing like speeding. Drive safe.
Take note of height restriction signs and weight restriction signs. Do you know your truck and trailer height and weight in tons? Some roads do not allow heavy vehicles, you may be asked if you saw a sign you just passed, and to describe it if you did.
Of course — Seatbelts!  Do all the things you should already be doing. Make sure the truck is set to travel before you start moving.  Mirror check. AC or heat set as you want? Seat in the correct position?  Check it all before you move or you may loose points.
You shoud be about done now. Most tests from pre-trip to finish is about 90 mins long.  If you did the check lists above and were ready for the skill test, I am guessing you will pass.

Hope this helped you. Leave a comment if it did and let me know what happened!
Thanks! Good luck and drive safe!

Bryan